Waldent Premium Taper Gold Rotary Files (pack of 6)
₹1,095.00
Delivery available at all pincodes.
Delivery within 5-6 working days.
Free shipping on orders above Rs. 2500.
100% purchase protection.
Original products | Secure payments.
Compare
Description
Progressive taper Gold Rotary Files
Waldent introduces Premium Taper Gold Rotary Files for enhancing the efficiency of dentists across the world. The especially designed files hold the correct amount of metals as alloy of Nickel & Titanium ,optimised combination of noble metals for preventing the endodontic instruments from galvanisation & corrosion.
Composition of alloy: Ni – 44% , Ti – 56%
Ideally used in Endodontic Treatment for shaping & finishing the root canals
ADVANTAGES:
Increased Flexibility:
Premium Taper Gold Rotary Files features the same exact geometries with flexibility increased by +24% on average and up to x2.6 greater resistance to cyclic fatigue on an F3 finishing file, reducing the risks of file separation.
Trusted Performace:
Featured with trusted performance , enhanced metallurgy provides best breakage resistance thus preventing any file breakage in the canal system.
Premium Taper Gold's convex triangular cross-section and progressive taper enhance cutting action while decreasing rotational friction between the blade of the file and dentin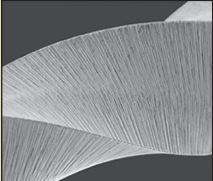 The non-cutting tip design allows each instrument to safely follow the secured portion of the canal while the small flat area on the tip enhances its ability to find its way through soft tissue and debris.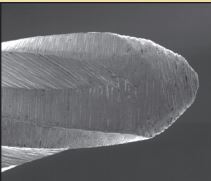 Premium Taper Gold with ultra slim handle for easy accessibility making it compatible with any type of endomotor.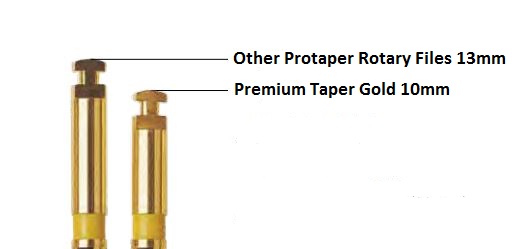 Direction to Use.
PREMIUM TAPER GOLD SHAPING TECHNIQUE
The crown down technique is the technique of choice for rotary instruments.
• Create straight-line access to canal orifice.
• In the presence of a viscous chelator (such as Glyde® File Prep root canal conditioner) passively scout the coronal 2/3 with 10 and 15 hand files. Gently work these instruments until a smooth, reproducible glide path is confirmed. Alternatively, mechanized glide path files (such as ProGlider® or PathFiles®) may be used after a 10 hand file.
• In the presence of NaOCl, "float" the S1 in the canal and passively "follow" the glide path. Before light resistance is encountered, laterally "brush" and cut dentin on the outstroke to improve straight-line access and apical progression. Always brush away from the furcation. • Continue shaping with S1 as described until the depth of the 15 hand file is reached.
• Use the S2, exactly as described for the S1, until the depth of the 15 hand file is reached.
• In the presence of a viscous chelator or NaOCl, scout the apical 1/3 with 10 and 15 hand files and gently work them until they are loose at length.
• Establish working length, confirm patency and verify the presence of a smooth reproducible glide path in the apical 1/3.
• Use the S1, with a brushing action, until working length is reached.
• Use the S2, with a brushing action, until working length is reached.
• Reconfirm working length, irrigate, recapitulate and re-irrigate, especially in more curved canals.
• Use Finishing File F1, in a "non-brushing" action, with each insertion deeper than the previous insertion until working length is reached. Do not leave the file at working length for longer than one second.
• Gauge the foramen with a 20 hand file. If the instrument is snug at length, the canal is shaped and ready to be obturated.
• If the 20 hand file is loose at length, proceed to the F2 and, when necessary the F3, F4 and F5, with the same non-brushing motion to working length, gauging after each Finishing file with 25, 30, 40 or 50 hand files respectively.
• If necessary, use the SX with a brushing motion to move the coronal aspect of the canal away from furcal concavities and/or to create more coronal shape. SX can also be used to optimally shape canals in shorter roots.
• The PREMIUM TAPER GOLD sequence is the same regardless of the length, diameter or curvature of the canal.
Key Specifications.
TECHNICAL SPECIFICATIONS:
| | |
| --- | --- |
| Taper Percentage: | |
| SX | 0.19/0.04 |
| S1 | 0.18/0.02 |
| S2 | 0.20/0.04 |
| F1 | 0.20/0.07 |
| F2 | 0.25/0.08 |
| F3 | 0.30/0.09 |
| | | |
| --- | --- | --- |
|  Premium Taper Gold | | |
| File Size | Speed [rpm] | Torque [N•cm] |
|  Premium Taper  Gold S1 & SX | 300 | 5.1 |
|  Premium Taper Gold S2 & F1  | 300 | 1.5 |
|  Premium Taper Gold F2, F3, F4, F5 | 300 | 3.1 |
Warranty
6 months warranty against manufacturing defect on battery
5 years warranty on PCB
1. Are these files exactly like dentsply protaper gold?
Answer- Yes, they are exactly made like dentsply protaper gold with the same progressive taper and flexibility.
 2. How are these files so low priced comparatively?
Answer- The low branding cost and supply chain distribution cost allows waldent to pass the benefit of cost to dentists directly across the world.
High quality LED Light Cure Unit
Comfortable grip suiting the ergonomics
Wireless LED Light Cure Unit with Photometer to check for the intensity of the light
The battery can be replaced
Four working modes
Time setting: 5s 10s 15s 20s 25s 30s 35s 40s
A full charge can be used for over 200 times (10 s/time)
Constant light intensity, the solidification effect is stable even the battery power decrease
1 x LED curing light unit
1 x Light cure probe
1 x Power Adapter
1 x Light sheilding barrier
1 x Bleaching Probe
Instruction Manual
Additional information
| | |
| --- | --- |
| Brand | Waldent |
| Packaging | Pack of 6 files. |
General Enquiries
There are no enquiries yet.